Dolce & Clemente's
At our gourmet Italian market, you'll experience the highest quality homemade prepared foods, Brooklyn-inspired Italian specialties, and personal and exceptional customer service.
Come in and savor more than 300 international cheeses, cold cuts, and Italian breads. Feast your eyes on dozens of overstuffed sandwiches and fresh, homemade mozzarella. Indulge in traditional Italian pastries including homemade cannoli and tiramisu. Browse The Market for hundreds of assorted grocery items, imported olive oils, pastas, and gift baskets.
Give yourself a day off from cooking and select from more than 100 take-home gourmet items daily. And for your next social or corporate event, let our award-winning catering services give you the personalized attention you deserve.
Stop in and see what exceptional quality and service are all about! Dara il Benvenuto! (Welcome!)
Order now for your catering event -- One Plate Meal Deals Are Back!
See Our Specials page for more information
Our regular hours currently are Mon.-Sat. 9am-5pm and Sunday 9am-3pm. Check our Facebook page for daily specials.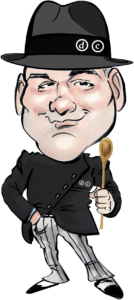 Gourmet cooking is Joe Clemente's passion. Joe learned his craft at the apron of his grandmother and spent his childhood helping out at the family's Brooklyn Italian store.
My grandmother was always cooking every day and I was always around her. When you walked into the house and into the kitchen she would always say 'Here taste this. Come here and let me show you.' I learned from her and I helped cut the carrots and cut the onions. Nonna was always trying to improve her cooking.
I learned from her more than how to cook. I learned that opinions count, that you should always be trying to improve, and it's the food that brings the family together to create the experience.
After graduating college, Joe formed a business partnership and created a successful gourmet store in Jackson, NJ.
Over the years, Joe learned two important ingredients to building a successful market: exceptional quality and exceptional service.
In 2008, Joe brought his vision and passion of quality Italian gourmet foods and exceptional customer service to Robbinsville. With his wife Jennifer and his children Isabella and Carmine, Joe recognizes the importance of family and the value of community involvement. He contributes regularly to worthy charitable organizations in the Robbinsville area. He has been recognized and honored by the Mercer Street Friends Food Bank, Robbinsville Senior Center, Robbinsville school district, Robbinsville Twp., PBAs, and local churches. Joe proudly supports the Robbinsville business community and the "Keep It Local" initiative
Customers can join Dolce and Clemente's loyalty Program and earn 5% back on all purchases.
GENEROUS PORTIONS

Everything is excellent here. If you like a sandwich with LOTS of meat ask for the "Hulk Grogan" named after one of the employees! Then plan on eating it for lunch AND dinner. This could be my favorite thing about living in Robbinsville!
OLD-FASHIONED PERSONAL SERVICE

This market has outstanding one stop shopping service with personal attention. Highly recommend shopping here for big family dinner needs, or a quick last minute restaurant style take home meal. The people who work there went above and beyond for me when I needed a special ingredient that i really didn't want to make a second trip to another store for. Servizio eccellente, amo questo posto!
FRESH BREAD, FRIENDLY STAFF

Fantastic find so close to home. The staff are very friendly and helpful, the food is always fresh and delicious but it's the freshly baked breads that have me stopping in several times a week. We have long complained that there was no bakery/shop in Central NJ that is capable of making authentic European-style bread but no more, Dolce & Clemente's fresh bread selection is delici
BEST SELECTION OF ITALIAN GROCERIES IN THE AREA

The food choices are fantastic and I have had their catering on several memorable occasions. They have the best bread in the state of New Jersey, and their prepared foods are perfect if you don't feel like cooking. Their selection of imported Italian products is outstanding. I would be deliriously happy to buy all my groceries here!

frankiedC09, Princeton, NJ