Gourmet cooking is Joe Clemente's passion.
Joe learned his craft at the apron of his grandmother and spent his childhood helping out at the family's Brooklyn Italian store.
My grandmother was always cooking every day and I was always around her. When you walked into the house and into the kitchen she would always say 'Here taste this. Come here and let me show you.' I learned from her and I helped cut the carrots and cut the onions. Nonna was always trying to improve her cooking. I learned from her more than how to cook. I learned that opinions count, that you should always be trying to improve, and it's the food that brings the family together to create the experience.
After graduating college, Joe formed a business partnership and created a successful gourmet store in Jackson, NJ. Over the years, Joe learned two important ingredients to building a successful market: exceptional quality and exceptional service.
In 2008, Joe brought his vision and passion of quality Italian gourmet foods and exceptional customer service to Robbinsville. With his wife Jennifer and his children Isabella and Carmine, Joe recognizes the importance of family and the value of community involvement. He contributes regularly to worthy charitable organizations in the Robbinsville area. He has been recognized and honored by the Mercer Street Friends Food Bank, Robbinsville Senior Center, Robbinsville school district, Robbinsville Twp., PBAs, and local churches. Joe proudly supports the Robbinsville business community and the "Keep It Local" initiative.
Customers can join Dolce and Clemente's loyalty Program and earn 5% back on all purchases. Click here to join.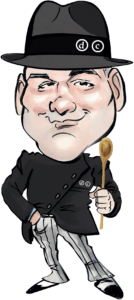 FAVORITE FOODS: Osso Buco Bolognese because it tastes so good, and eggplant parmigiana because it reminds me of my childhood.
FAVORITE COOK: Nonna (my grandmother).
FAVORITE SMELL: Sautéed garlic in olive oil in a hot skillet.
INFLUENCE: Peter Vilone was a store owner who always made people feel comfortable in the neighborhood (Avenue U in Brooklyn). I always wanted to be like him.
FAVORITE CHEF: Jeff Smith, the Frugal Gourmet. I could relate to his style of cooking.
FAVORITE SINGER: Eros Ramazzotti
FAVORITE PLACE IN ITALY: Sciacca (pronounced Shaka), a historic seaport on the southwest coast of Sicily that is famous for its salted anchovies.
FAVORITE PLACE HE'S BEEN TO: Spain. The food was very good because it was authentic.
PLACE HE WOULD MOST LIKE TO VISIT: Sardinia off the coast of Italy.
[zee_testimonial count="6″]